Finalists announced for the Employer of the Year 2022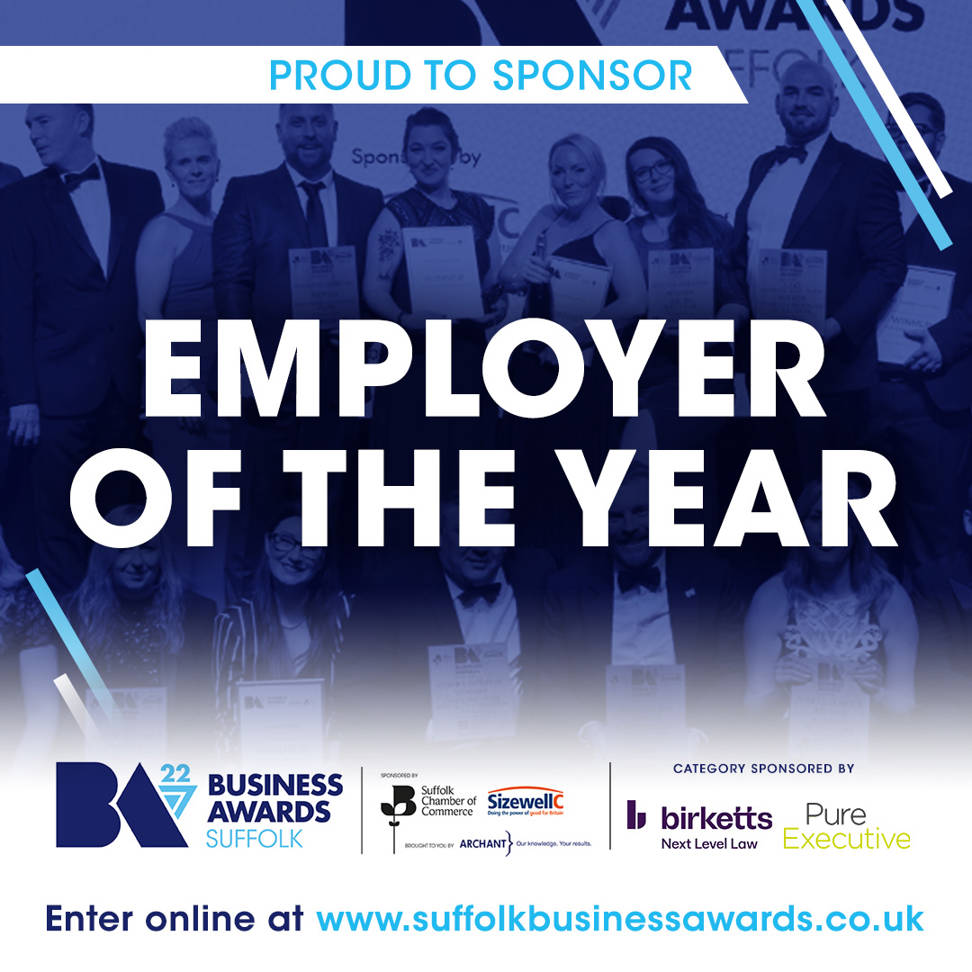 We are delighted to announce the finalists for the Employer of the Year award at the Suffolk Business Awards.
The awards celebrate the best people and strategies of the Suffolk business community.
As leading Executive search specialists and sponsors of the Employee of the Year Award alongside our partner Birketts, we're proud to see so many superb local businesses in the spotlight.
What is Employee of the Year?
The Employee of the Year award recognises the importance, evolution, and impact of workplace employee engagement, rewarding organisations that have a people-focused culture.
"The Employer of the Year award is always a coveted category, with businesses keen to celebrate the importance of their most valuable assets – their people," says judge Becky Wilson, Business Director at Pure Executive. "It has been great to judge this award and see how organisations across Suffolk are striving to create places where people want to work."
Organisations entering this competitive category were asked to provide evidence of their progressive people strategies, as well as their innovation and employee recognition.
"The finalists have recognised that employee engagement creates happier, healthier, and loyal employees. And that it can also contribute to productivity and provide a place where people believe they belong. In today's competitive environment, building a strong, stable and resilient workforce is an essential element for the future of any business," adds Becky.
"It is a candidate-driven market and organisations need to work harder and smarter to attract, recruit and retain the best talent. This award gives people a sense of belonging to their organisation and its brand. Winning this award will demonstrate to potential employees that they are a great place to work. Good luck to our finalists."
Who are the finalists?
The following four organisations have made it to the finalist stage, showcasing the excellence of the region's businesses.
Chestnut Group
Chestnut Group is a hospitality business that crafts authentic experiences through engaging food and drink, home-from-home bedrooms, and relaxing spaces, together with informal, warm services.
Born from a deep-rooted love of East Anglia, the company has a strong focus on making a difference. The team strives for consistent quality of delivery in everything they do while helping people build strong connections and memories.
Chestnut's dedication to quality extends to its people. Awareness and sensitivity are the cornerstones of the company's success.
Judges have been impressed by Chestnut's agility, particularly in implementing a 4-day working week. The company has also worked to push the boundaries of existing standards within the hospitality space, by giving employees holidays over the Christmas period.
The strong value system that Chestnut has adopted is well embedded throughout the workplace, and the company's innovative approach, particularly during the challenging era of Covid, also makes it stand out.  
Gressingham Foods
Family-owned Gressingham Foods supplies premium quality duck and speciality poultry to retailers, caterers, and manufacturers.
With a customer focus, Gressingham Foods champions innovation and has built a committed, fully trained team who always considers welfare and the environmental impact of the company's activities.
As the producers of the famed Gressingham Duck (grown and packed on Red Tractor-assured farms across the UK), the company was founded in 1971 and has continued to grow and thrive ever since.
The judges singled out the company's training approach as enthusiastic and immersive, with Gressingham Foods engaging with schools to attract and retain apprentices. Judges also commented on the company's willingness to think outside the box.
Access Community Trust
Access Community Trust promotes social inclusion for greater community benefit, working with the homeless and vulnerable, preventing people from becoming isolated, and helping socially-excluded individuals to integrate into society.
The company is based in Lowestoft, Great Yarmouth, and Thetford. Its ethos is that everyone – regardless of their circumstances or background – has the right to a home, positive relationships with others, and to achieve their potential.
Judges applaud how values are embedded across the organisation, including new employees. The organisation feels inclusive, and despite the barriers of funding they face as a charity, they've already achieved some fantastic 'wins' for the people they help.
The team works with hundreds of disadvantaged and vulnerable clients throughout the region, with a drop-in centre for specialist guidance, training services (such as employment mentoring), and a dual diagnosis mental health service. Access Community Trust also provides six supported housing units, helping men, women, families, single mothers, and young people aged 16+ to achieve personal fulfilment and independent living within their communities.
Orwell Housing
Orwell Housing Association provides homes for more than 7500 residents, managing approximately 4,000 properties across Suffolk, Norfolk, Cambridge, and Essex.
The organisation focuses on housing management, care, support, property development, and estate services.
Orwell Housing's hiring practices reflect the diversity of its community, with a commitment to sourcing talent from all backgrounds.
Judges have commented on Orwell Housing's refreshing approach to hybrid working and its dedication to promoting its values. The organisation spearheads engaging and positive initiatives, many of which have an innovative approach.
Orwell Housing's Human Library event was particularly well-received, bringing a wealth of knowledge to their employees in an informal setting.
When is the winner announced?
The winner will be revealed at the upcoming awards ceremony at Kesgrave Hall, Ipswich on Thursday 29 September 2022.