Employers of the Year 2021 revealed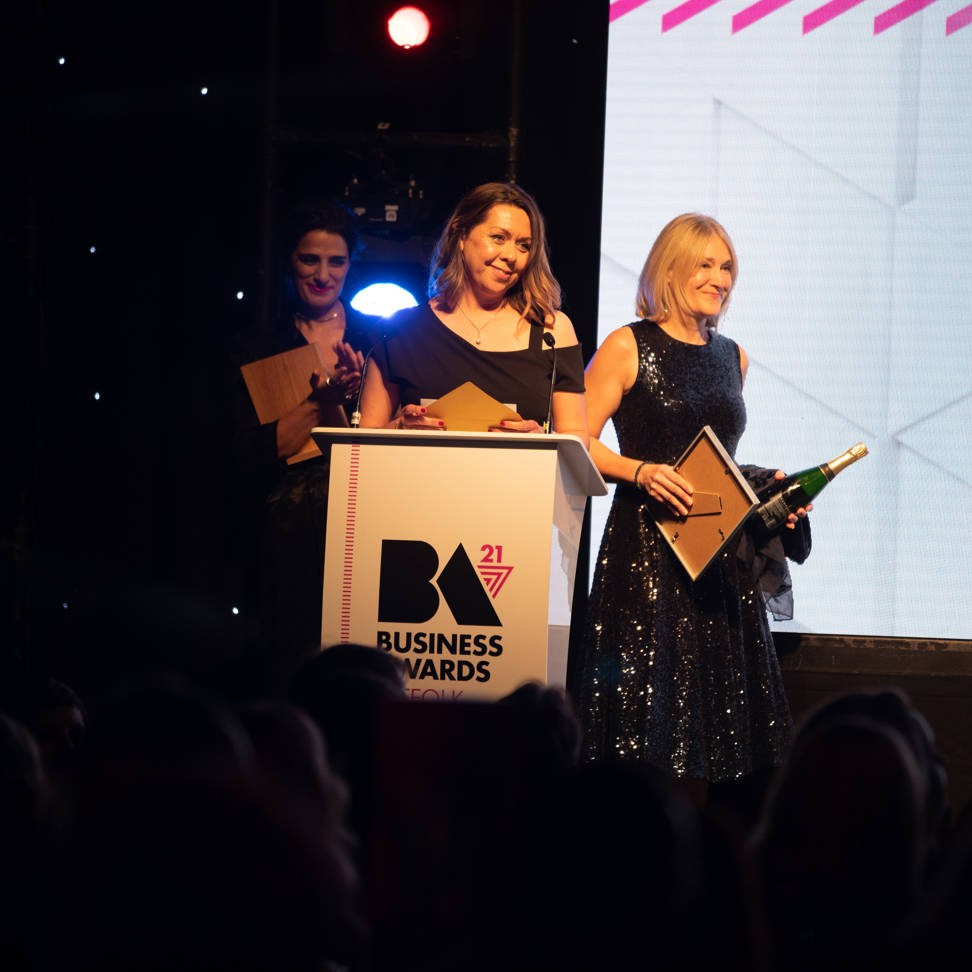 Alongside our partner Birketts LLP, Pure Executive sponsor the top prize at both the Suffolk and Norfolk Business Awards 2021 – the coveted Employer of the Year award. Here's the lowdown on this year's winners and runners up.
Suffolk Business Awards 2021
The Suffolk Business Awards ceremony took place at Milsoms Kesgrave Hall in November. Facilities management firm Vertas Group were announced as the winners of the 'Employer of the Year' award.
More about Vertas 
Vertas Group provide facilities management services and are headquartered in Ipswich. They employ around 4,000 people across the UK. Their company culture is centred around inclusivity and support, with a strong internal communications programme designed to empower managers and team members to talk openly about goals and aspirations. They also have a comprehensive reward and recognition strategy, and a wellbeing support service – all to facilitate and encourage individual personal development.
Why are they the Suffolk Employer of the Year?
2021 has seen Vertas elevate their already strong employer brand to even higher levels. They responded to the pandemic with both compassion and agility, prioritising the livelihoods and wellbeing of their people and their families. Jodie Woodrow from Pure Executive, who judged the award alongside Catherine Johnson from Birketts, was impressed by the way Vertas have continued to develop their progressive, inclusive and people-centric culture. She also complimented them on the way they attract, nurture and retain the best talent.
The judges also commented on the way Vertas blend lifelong learning opportunities, enhanced reward and recognition strategies, generous health and wellbeing provisions, a hybrid working model, commitment to CSR activities, diverse thinking and visible leadership across their business. In short, they're an employer of choice within both our region and beyond.
Vertas topped off an already successful awards ceremony by also winning 'Business of the Year'.
The runners up
The other finalists for the Employer of the Year were:
Access Community Trust, an organisation that supports people at risk of homelessness and social isolation
Concertus, a multidisciplinary design and property consultancy
Cory Brothers, a global logistics and maritime services provider.
You can find out more about all of the finalists in this video.
Norfolk Business Awards 2021
The winner of the Norfolk Business Awards 'Employer of the Year' award was Cornwall Insight, a management consultancy working in the energy, utilities and environmental sectors. The ceremony was held at Norfolk Showground Arena in Norwich.
More about Cornwall Insight 
Cornwall Insight is an energy consultancy business with 80 staff in Norwich and a further 25 in London and Australia. They have very clear values and a business strategy that the whole team were involved in redeveloping. They've embedded these in their culture, and linked them to their teams' performance, reward and development. 
Why are they the Norfolk Employer of the Year?
The judges – Lynn Walters from Pure Executive, Dee Wilmott from Archant and Jeanette Wheeler from Birketts LLP – felt that Cornwall Insight have worked really hard to improve their culture and empower their teams over the past 18 months. They were also impressed with the way the company has embraced agile working. They've given their people the freedom to choose how and when they work, while also thinking carefully about what they need to achieve. And they provide excellent benefits that show their people how important they are to the business.
The runners up
The other finalists for Norfolk's Employer of the Year were:
Evander, a provider of glazing and locksmith services for the insurance, home emergency, facilities management and property sectors

Liftshare

, a

car-sharing
You can find out more about the winner and runners up in our finalists' video.
What are the Suffolk and Norfolk Business Awards?
These awards bring business communities together across the two counties to celebrate each other's achievements and highlight industry leaders. They award companies doing outstanding things in their sectors, and honour the achievements and contributions they make to the local economy. You can find out more about the awards, and sign up for updates, on their websites: Suffolk Business Awards and Norfolk Business Awards.
To find out more about becoming one of our regions best employers visit www.best-employers.co.uk